About me.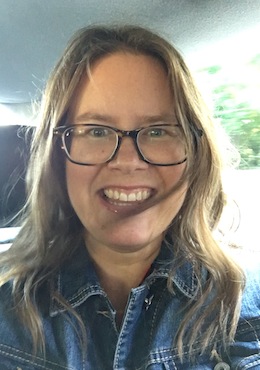 I come from the far north,
where the wolves howl,
trees stand straight & tall,
and winter snow blankets the earth in silence.
I come from the great lake,
where sturgeon swim in crystal-clear water,
waves tickle the shoreline,
and the horizon stretches to infinity.
I come from the night,
where the Aurora dances,
the Milky Way beckons,
and the ink-black sky glitters with stars.
I'm an artist, a storyteller, a wide-eyed wonderer.
I am here to be a lighthouse ~ to shine a light of hope + possibility + wonder + magic in a world that can feel entirely too gloomy.
Beauty is my muse. Wonder is my guiding light. I know first-hand how they can be a lifeline in moments of overwhelm, fear, despair & loneliness. And I also know how they can guide you toward home.
Everything I do, everything I offer, can be summed up in three quotes.
"Everyone needs beauty as well as bread." ~ John Muir
"Stay close to anything that makes you glad you are alive." ~ Hafiz
"The world is full of magic things, patiently waiting for our senses to grow sharper." ~ W.B. Yeats

A manifesto, of sorts.
I believe in trust + generosity + permission + lovingkindness.
I believe that there is beauty and Light in everyone and everything.
I believe in the power of story: the power of telling our own story and the power of hearing others' stories. Along with many other reasons, I believe it helps to remind us that we are never alone.
Most importantly, I believe that you are enough, exactly as you are. I also believe that you are extraordinary. Even (especially) when you don't believe it.
Five fun facts.
I spent ten years as an engineer in high-tech. When I left, I was (mostly) writing and teaching other engineers how to turn verbosity into succinctness. It was there I found my passion for the user experience, and realized that I can take the complicated + esoteric and make it simple.
I love adventure. I made a solitary cross-country move to California because I was tired of winter, learned to row crew after college, and hiked the Inca trail with a group of strangers-cum-friends. I even earned my yellow belt in karate, only to decide I wasn't disciplined enough to continue. This translates to my inner world as well; I am never happier than when I am following my psyche down a winding, twisting road.
I am a Scanner. I am curious about everything. When something attracts my interest, I dive right in. One day, this might be cultivating friendship. Another day, respectful parenting. Another day, layering photos in Photoshop. Another day, the entire first season of Gossip Girl.
Related, I am a voracious reader. I am hopelessly devoted to self-help books, but will read anything, from the classics to the latest fantasy to business development to historical fiction to alternative medicine to parenting. There is so much information in my brain, and my brain can make connections between everything.
My favorite title is Auntie Libby. After many years on the West Coast, I moved back to the Upper Peninsula of Michigan to be near family. Especially the little ones. It is such a treat.
I am currently besotted with:
Lake Superior sunsets, the cize dance workout, stripes, homemade energy bites, hand lettering, and all things French.
Want to contact me? What fun!