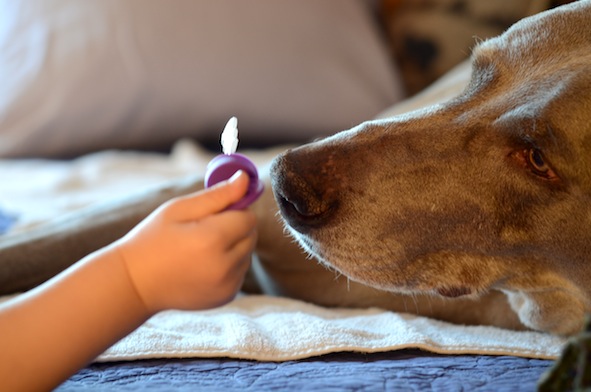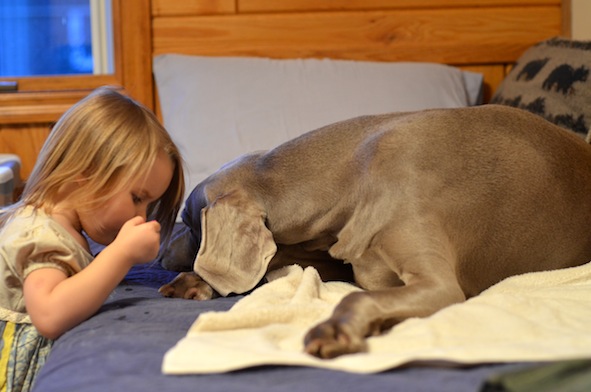 in my head, i have a long litany of atlas stories, so i thought i would share a few of them with you. i am feeling very tender toward him today because last night, he had an episode that was possibly/probably a seizure. he is fine now, but it reminded me that it is good to love him extra-hard, while he is here in the world with me.
blow, atlas, blow.
savannah likes to incorporate atlas into her bubble play.
she puts the bubble wand in front of atlas's nose and says, "blow, atlas, blow". sometimes, he ignores her. sometimes, he lifts his head up, looks at the wand, licks it, then licks his lips with a very puzzled expression. i imagine he is wondering why she's offering him something that is clearly not edible.
she also likes to blow bubbles "at his toes!" or "at his head!"
pee on the snow.
atlas started peeing in the front yard. i think it's because it's the only place with grass.
my mom said no – that section of grass needs all the help it can get. the cars are parked there in the winter, to stay out of the way of the plow, so the grass never really grows.
whenever atlas tries to pee in the yard and i say no, he walks across the road and clambers to the top of the snowbank. with the recent warm weather, the snow is extremely soft. one night, mid-stream, he tried to move his foot to re-adjust, and sank down into the snow while he was peeing.
it was hilarious. as is the sight of him peeing on the top of a snowbank at all.
atlas smells the wild.
the windows in my room are almost always open. one night, i woke up in the wee hours to find the smell of skunk wafting through the open windows.
atlas popped out of bed and delightedly sniff-sniff-sniffed away. he wanted to go outside.
i most definitely did not.
however, i couldn't be sure that he didn't also want to go outside because he needed a potty run, so i finally brought him outside anyway, putting him on a leash and peeking out the door before i opened it.
atlas did not appreciate the leash. how could he find the delightful smelly creature with me attached? i, on the other hand, was pretty sure that if he had found it, he would have escaped unscathed while i wound up getting sprayed, so i did not feel remorseful about the leash at all.
the climb.
after the snow went through some rounds of thawing and freezing, there was a reasonably solid crust. atlas could walk on it without sinking too deeply or too often, so he started following his nose into the snow.
there is a hill (two plus houses high) near my house. we call it the dirt hill and it was the scene of many youthful adventures.
atlas and i were out for a walk one day when he caught a scent near the hill, clambered up the snowbank, and started climbing up the snow-covered hill. every few feet, he stopped and looked back at me, a very pleased expression on his face. i cheered him on happily. (i tried to go too, but when i sank to my knees in the snow, i turned around.) he finally crested the top and disappeared.
eventually, he came back. when he finally reached the road, he looked so delighted with himself and his adventure.
oh, dogs. aren't they wonderful!
they are so good at taking the simplest things in life and turning them into a joyful adventure.