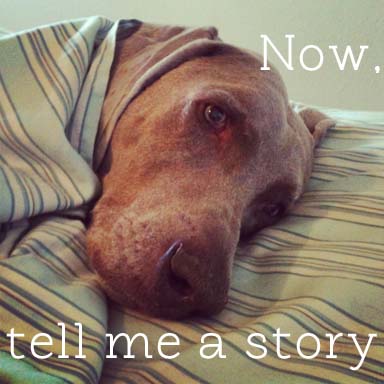 have i ever told you that i read to atlas and tell him stories?
i do.
he loves it. he watches me for a while and then he sighs happily and closes his eyes while his entire body relaxes.
i don't know why i've never talked about this before. i have long thought that reading to dogs is a lovely practice.
it seems like such a simple and easy way for dogs and people to quietly connect.
dogs like attention and affection. talking to them in a normal tone of voice is a way of giving them your attention while keeping them calm. the trouble is that it can be hard to talk to your dog for long; they don't talk back and one-sided conversations aren't much fun. reading to them is a great way around this.
you know how i got started? an animal communicator was talking to atlas and he told her that he liked it when i read stories to him at night. except i wasn't reading to him at all. i read exceptionally fast so i had been reading a book aloud (beowulf, i think) as a way to slow myself down.
after that, i started reading out loud deliberately, just so he could enjoy it. not all the time, but often. (oh my. i just remembered when i tried to read him the craggy hole in my heart and the cat who fixed it. i thought it would be perfect. only i cried so hard through the whole book that i could barely get the words out.)
i also tell atlas stories, usually in the evening, when he's quietly napping on the bed or in his crate. i sit next to him on the bed or lie in front of the crate and tell him a story. often, they are true stories. favorites include the story of how he came to live with me or the story of how he chased a rabbit and then i sprained my ankle or stories that involve squirrels and kitties.
so yes, reading to dogs. i am a fan. if you have a dog, do try it and report back!
if you don't know what to read to your dog or you want something special, i wrote a very sweet story for atlas when he hurt his paw. the story is called the puppy's dream and it's available for purchase.
(poor atlas. he looked at me so sweetly but instead of getting a story, he got a camera in his face.)