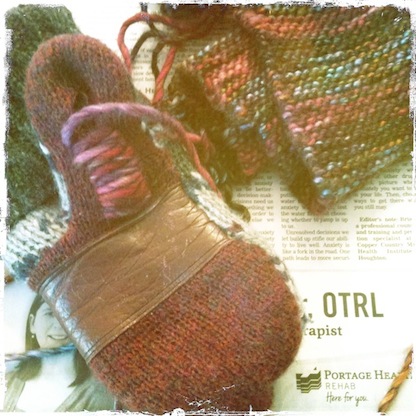 my mother taught me to darn! i put my mittens on one day and my thumbs poked through. i felt morose — i like my mittens; they were made from old sweaters & i bought them at the beginning of winter — so my mother said i could darn them. serendipitously, i had just the right yarn. (it was going to be a scarf but i never finished it and also there wasn't really enough yarn for a scarf.) i was so pleased when i was done. i had thumbs again! all thanks to me.
i could live on mac'n cheese. mac'n cheese and steamed broccoli. i could eat it every day for dinner and life would be joyous.
for years, i've had a faint memory of a dice game i used to play with friends. i remembered that it had six dice, we called it 10,000, and it was seriously addictive. this christmas, my parents gave me a game called farkle because they had heard about it from some friends. when i read the description, i cried actual tears of happiness. it was my dice game! and yes, it is as addicting as ever. also, every time i play, or watch others play, i remember that i should never ever ever gamble.
my hair is driving me batty. i want to cut it all off. but every time i find a photo of a cute pixie cut, i remember how long it took me to grow out the last one. (at one point, unbeknownst to me, i had a mullet. i don't want another mullet!)
i have been thinking a lot about the gift economy and how to incorporate it into my business. in short: i would give you a product or service as a gift and i would trust you to gift me back with what you think is a fair value for my offering. that gift might come in the form of money; it might be something else altogether (for example: postcards, cookies, referrals, well wishes, a random act of kindness toward someone, a pair of cowboy boots). i love the idea of this for so many reasons but there are two in particular that stand out. one is that it acknowledges and honors the many ways we can express appreciation and gratitude for products and services, money being only one of those ways. the other is that it seems like a beautiful way for me to practice trust. i am not entirely sure if this is feasible for products (because i must spend money in order to create them) but i really really want to use this method of exchange for offerings like the story club or hope floats in winter; i just need to find the words. in the meantime, if there is something you are desiring and this particular form of exchange resonates with you, do let me know.
happy monday! may it be beautiful.