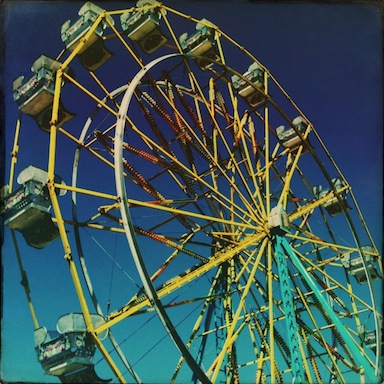 if you're wondering what i am up to over here, i am thinking about packing and writing a love letter to oregon. at my current pace, both items will be done in my next lifetime, and i will be all out of tears.
(just to be clear, i am still excited about going. i am just sad that it means leaving oregon, and it is better for me to feel the sadness when it comes up than to squash it.)
at any rate, i am in the mood for something lighthearted.
as far as i am concerned, a day with a ferris wheel to photograph is a very good day.
i took this photo last month, when the county fair was in town. you know what i just realized? while i was there, i was trying to decide whether it was smaller or larger than the county fair in my hometown. little did i know i might have the chance to compare them. this one did not have an entrance fee, so it might be the overall winner.
i ate a deep-fried twinkie while i was there. it was delicious; it tasted like a donut. i am marking that item as complete on my life list. next up, i think, is a deep-fried oreo.
have you eaten one of those unexpected deep-fried concoctions that are popular at fairs? how was it? should i add it to my list?
th-th-th-at's all for now, folks!